In response to an increased demand for legal citations at the high school, college and university levels and to support our National History Day (NHD) partners, NoodleTools is delighted to announce that students and scholars can now import citations from HeinOnline's Law Journal Library. This database contains articles, comments, notes, book reviews, cases, decisions, and legislation. Known for its breadth and depth of multidisciplinary content, HeinOnline is becoming a mainstay of thousands of non-law colleges, universities, and high schools around the world.
About HeinOnline: Law Journal Library
Academic journals provide a wealth of information regarding law and law-related issues, as well as in-depth analyses of important legal decisions. With more than 38 million pages of law-related sources, HeinOnline's Law Journal Library bridges a crucial research gap between students, generalists and scholars. Law Journal Library is comprehensive, beginning with the first issue of over 2,800 law and law-related periodicals covering 100 subject areas from 60 different countries, as well as the 50 states and the District of Columbia. Image-based and fully searchable, researchers see an exact facsimile of every document's print counterpart matched with an artificial intelligence-enhanced search designed to help researchers find relevant and similar sources.
Citing sources from HeinOnline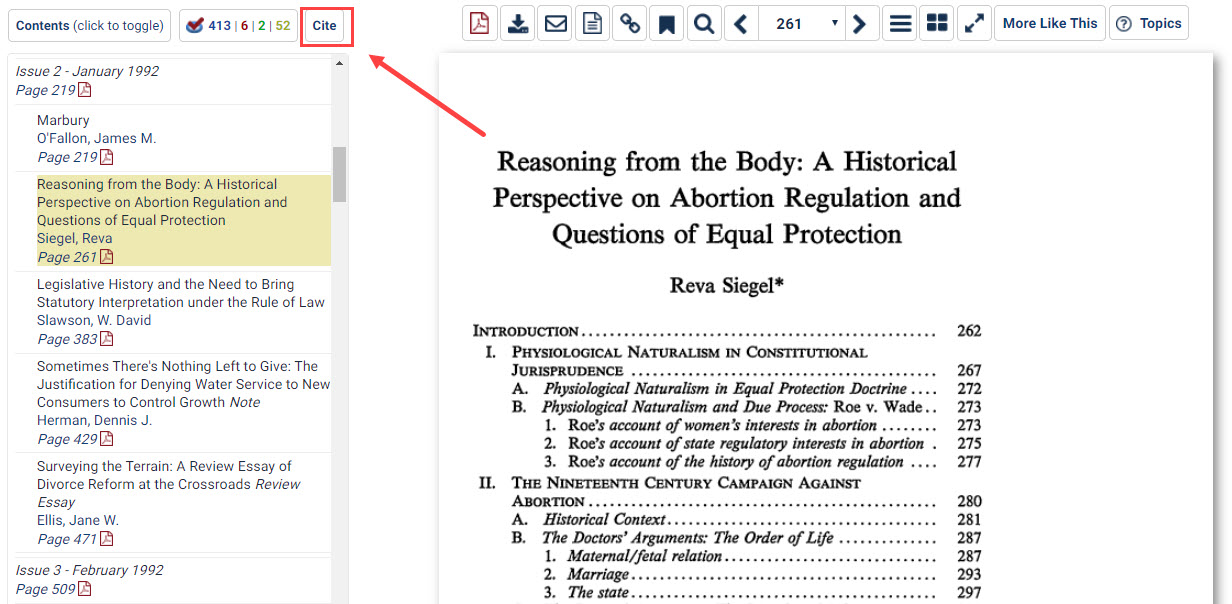 A HeinOnline user can easily a source from Law Journal Library. To begin, a student opens a NoodleTools project and locates a periodical article in HeinOnline's Law Journal Library that they wish to use in their research. As pictured here, the built-in Cite button above the document launches the citation feature.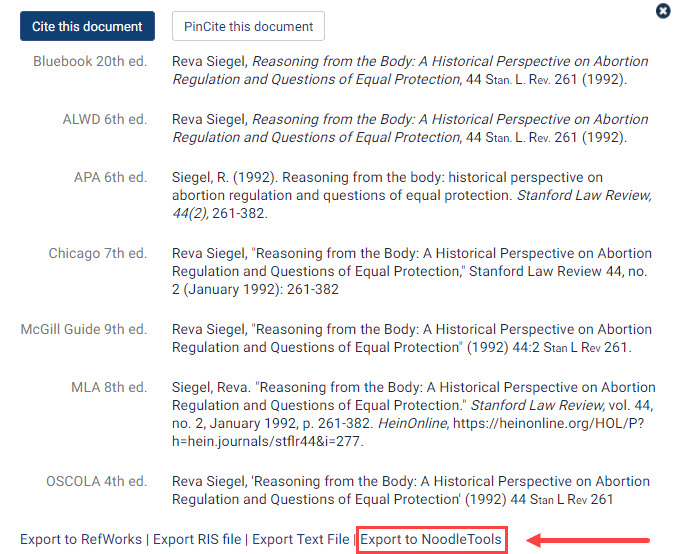 The Cite button brings up examples of citations for the document in various styles created by HeinOnline. Clicking the Export to NoodleTools hyperlink (pictured) displays the MLA, APA, or Chicago-style citation as it will be imported into the NoodleTools project.
Note: The citation style imported will match the style of the NoodleTools project currently open.
Free access through December 15, 2020
In recognition of the rapid changes in education as a result of the COVID-19 pandemic, HeinOnline is offering free campus-wide and remote access to HeinOnline Academic (for colleges) or HeinOnline Scholastic (for high schools) for the remainder of the current semester and next semester (through 12/15/2020). Don't miss this opportunity to investigate and experiment with this excellent resource!
Tags: citing sources, databases