Jennifer Bartell Boykin, Teacher of the Year (2019-2020) at Spring Valley High School, got a shout out from a Technology and Learning Coach at Richland School District Two (Columbia, SC) for effectively leveraging a HyperDoc and NoodleTools to guide her 11th grade English research assignment.
A HyperDoc is a form of scaffolding
A HyperDoc is a hub for all the components of an assignment. Since it mirrors the teacher's instructional sequence and contains all the media, tools, resources and explanations the student needs, the teacher can shift from online to hybrid instruction without modification.* 
Mrs. Bartell Boykin split her HyperDoc into sections labeled Explore, Explain and Apply. As students worked independently through the tasks by section, she was able to monitor their work and assess their progress toward what they needed to know and be able to do.
*Learn more about the pros and cons of HyperDocs and explore the curated HyperDoc templates and resources for all grades and subjects.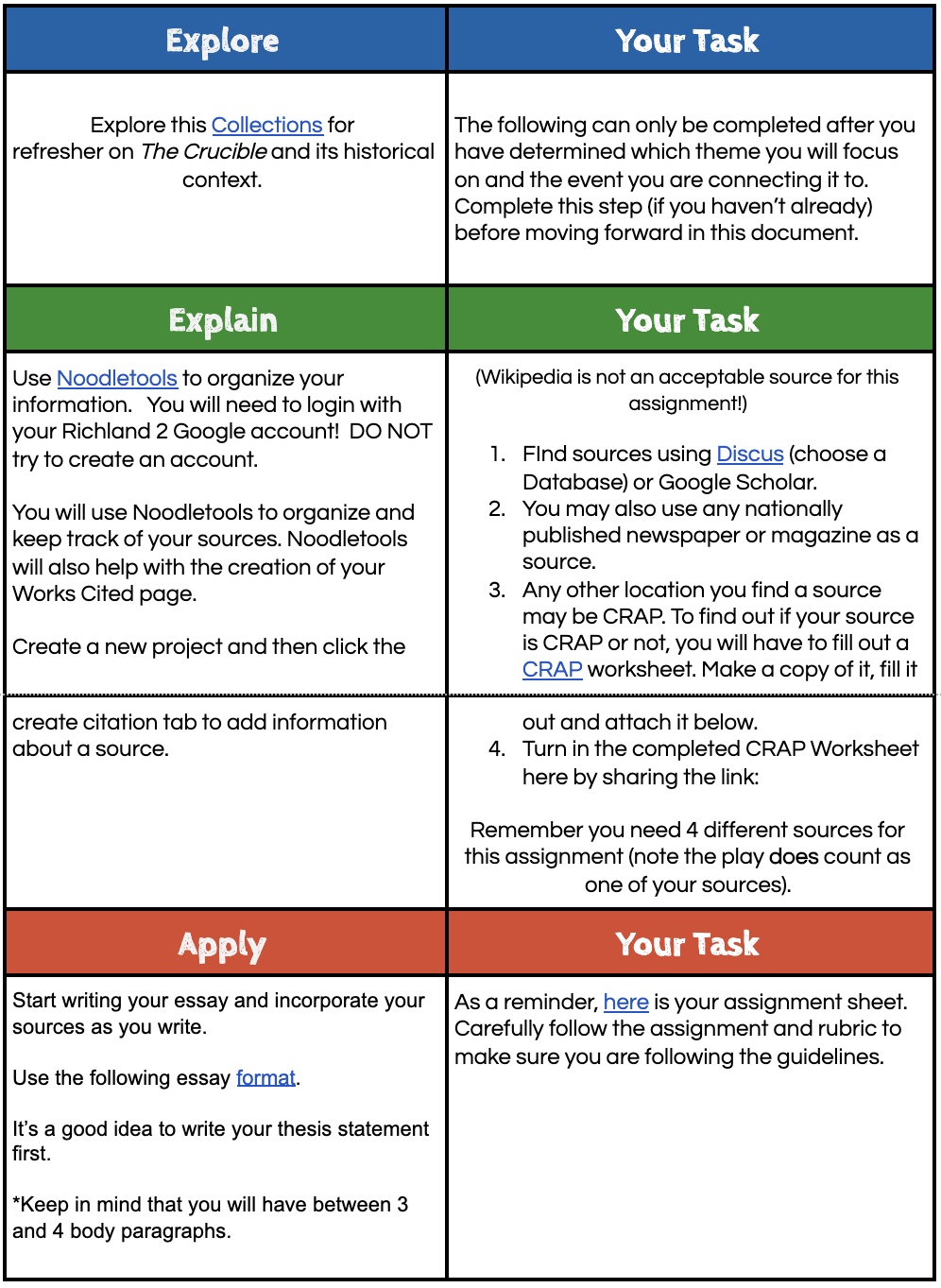 Easy, consistant way to organize sources and notes
Students used the school's databases on DISCUS to explore subthemes in The Crucible in order to create arguments and collect supporting data. Each student used NoodleTools to list their sources, determining if they were credible as they entered them into their working bibliography.  The students wrote notes about their findings. Along with the essay supporting their research, students appended a Works Cited page exported from NoodleTools. 
While Mrs. Bartello Boykin has been teaching for over 12 years, she was new to NoodleTools.  After a professional development session about the service, she became enthusiastic: "I love how easy it is to use! Students take notes on the sources they cite and my favorite part is how it creates the Works Cited page for them."  After this essay, she assigned NoodleTools again — this time to organize sources for Book Club presentations.
Ms. Boykin can be reached at jboykin@richland2.org. The website for her English and Advisory classes is: https://sites.google.com/richland2.org/bartellsvhs/home.
Tags: assignment, hybrid, hyperdoc, instruction, online, organization, scaffolding