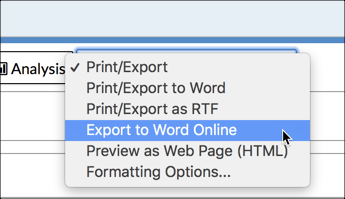 Welcome back to school!
We want to let you know about Office 365 features that were added to NoodleTools over the summer.
For schools and districts that use Office 365 single sign-on (SSO) for authentication (which you can request here), NoodleTools now provides a Word Online export option.
Users can now export their source citations, notecards, and outlines directly to Word Online! When logged in to NoodleTools via Office 365, users will see "Export to Word Online" in their Print/Export menu (see above image).
For details, please see: "How to export sources to Word Online" and "How to export or print notecards."
The Paper component in NoodleTools also works with Word Online now. When a user is logged in to NoodleTools through Office 365 SSO, clicking "Paper" in the navigation bar (or "Start paper" on the project's Dashboard) will open a new document in Word Online and link it to the project.