Introduction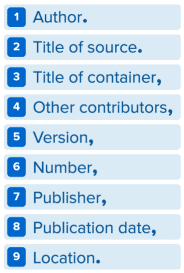 The 8th edition of the MLA Handbook published in the summer of 2016 took a brilliant conceptual leap by advancing a set of citation principles that flexibly handle any new media or format. A generic template can be used with any source, and special formatting based on source type (e.g., use "p." for one type of source, but leave it out for another) has been eliminated.
However, this new simplicity comes with new challenges. Application of MLA's template takes practice and some creativity. And identifying what to include in each field in the template requires an understanding of the source and its unique qualities. What is "number" when looking at a book? A journal? A TV program?
MLA 8 source-specific templates
NoodleTools has created a collection of source-specific MLA 8th-edition templates. These PDF forms can be downloaded and given to students to fill out online or printed out and filled in by hand. In contrast to the single generic template provided by MLA, these forms prompt the student for exactly what information is required for the particular source they are using.
---
---