Modern, clean and efficient (and great new features!)
Our Summer 2021 update refreshes NoodleTools with a clean, modern look, simplifies the interface throughout, and adds new features you'll love. As we come closer to the release date in July, a fully updated collection of tutorials will let you take a deep dive!
Summary: You'll quickly notice the consistent use of color and icons that direct your attention to what is important. The main navigation bar has moved into a side panel (left) and can be minimized to provide more workspace on smaller screens. You can access relevant project details directly, right where they're needed, eliminating extra clicks from a separate "dashboard" screen. A new search feature and a school year filter make it simple to locate past projects.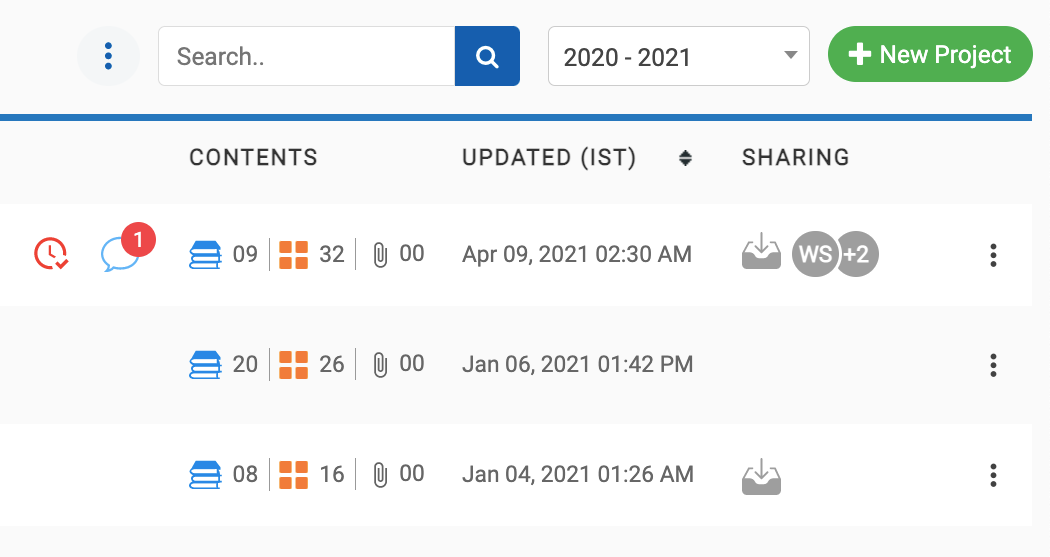 Green means go
We've added colors and icons that direct your attention to what is important. Want to create a new project? A new citation? A new notecard? Look for the green "New" button at the top right of every screen. Scan for red icons to see which projects have new comments or to-do reminders.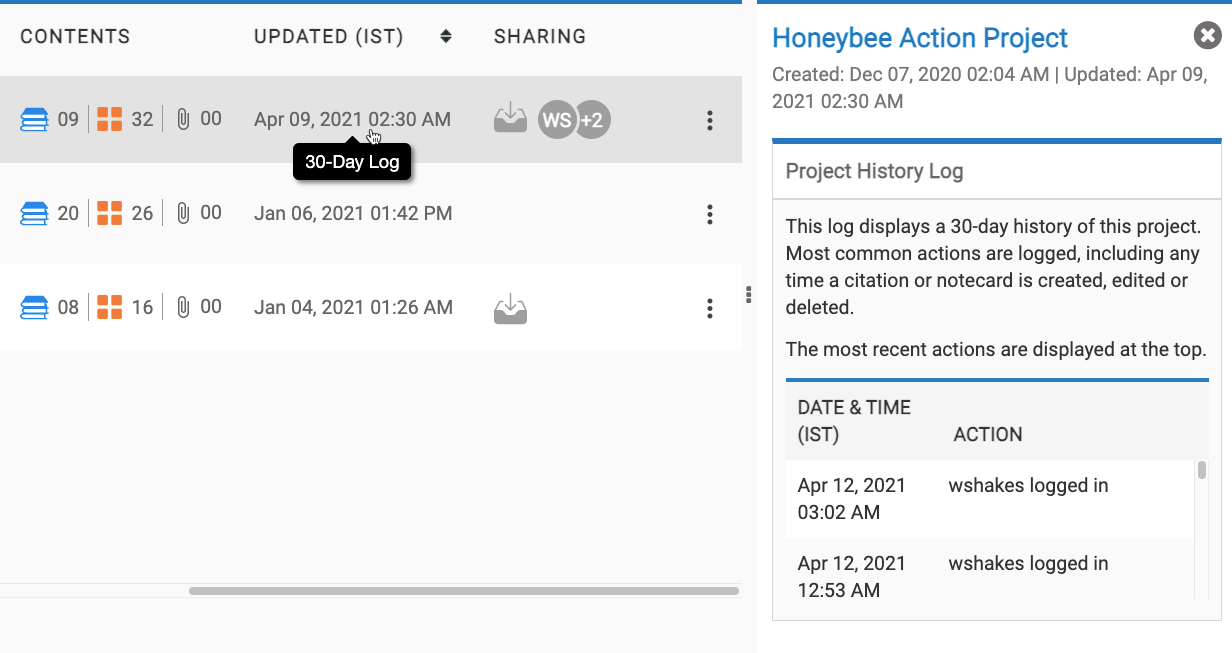 No more dashboard
Click the project's title or the Sources icon (blue books in the "Contents" column) to access your citations. Or jump directly to the Notecards screen via the Notecards icon (four orange squares).
To view your project's 30-day log, click the "Updated" date. Sharing and collaboration settings are also one click away in the "Sharing" column.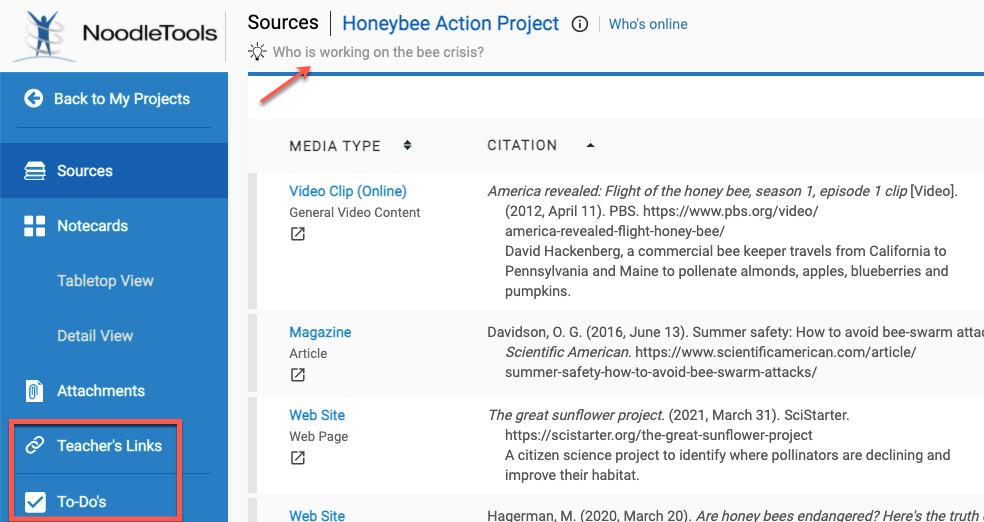 Visible Research Goal
Your research question and thesis statement remain front and center at the top of the Sources or Notecards screens to remind you of your focus. Plus, you can access instructions, assignment links and to-do's from the blue panel on the left.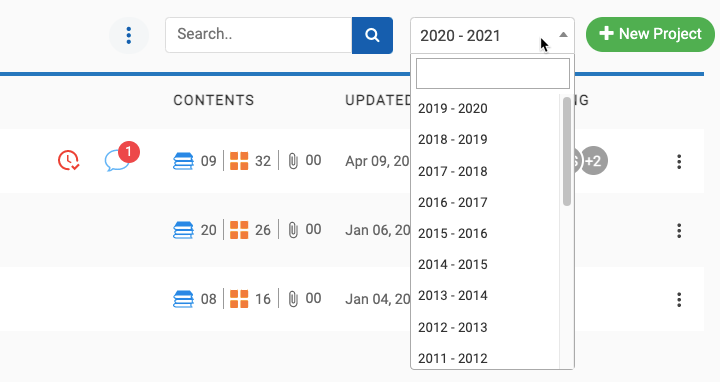 No more archiving (Part 1)
We've eliminated the need to archive projects. Current projects are visible by default, and work from previous school years is accessible via the dropdown filter at the top of the screen. We've also added a search box so you can find projects across all school years.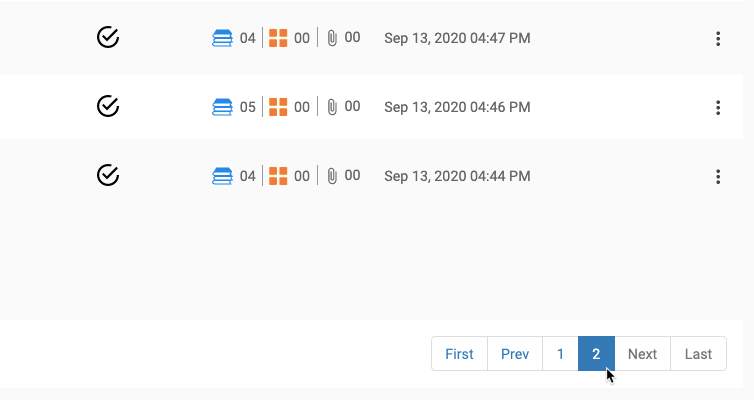 Find projects quickly
The Projects screen is paginated, so if you have more than 20 projects under a particular school year, you can page through them as needed. Screens load quickly and you can click the column header to sort the projects by name or update date.
Summary: As with the Projects screen, the Sources interface has a consistent, modern look. Where possible, we've decluttered the main view and added quick access to common actions. The update introduces some new features like citation attachments and color tags, and adapts the citation forms to keep step with the latest style guides.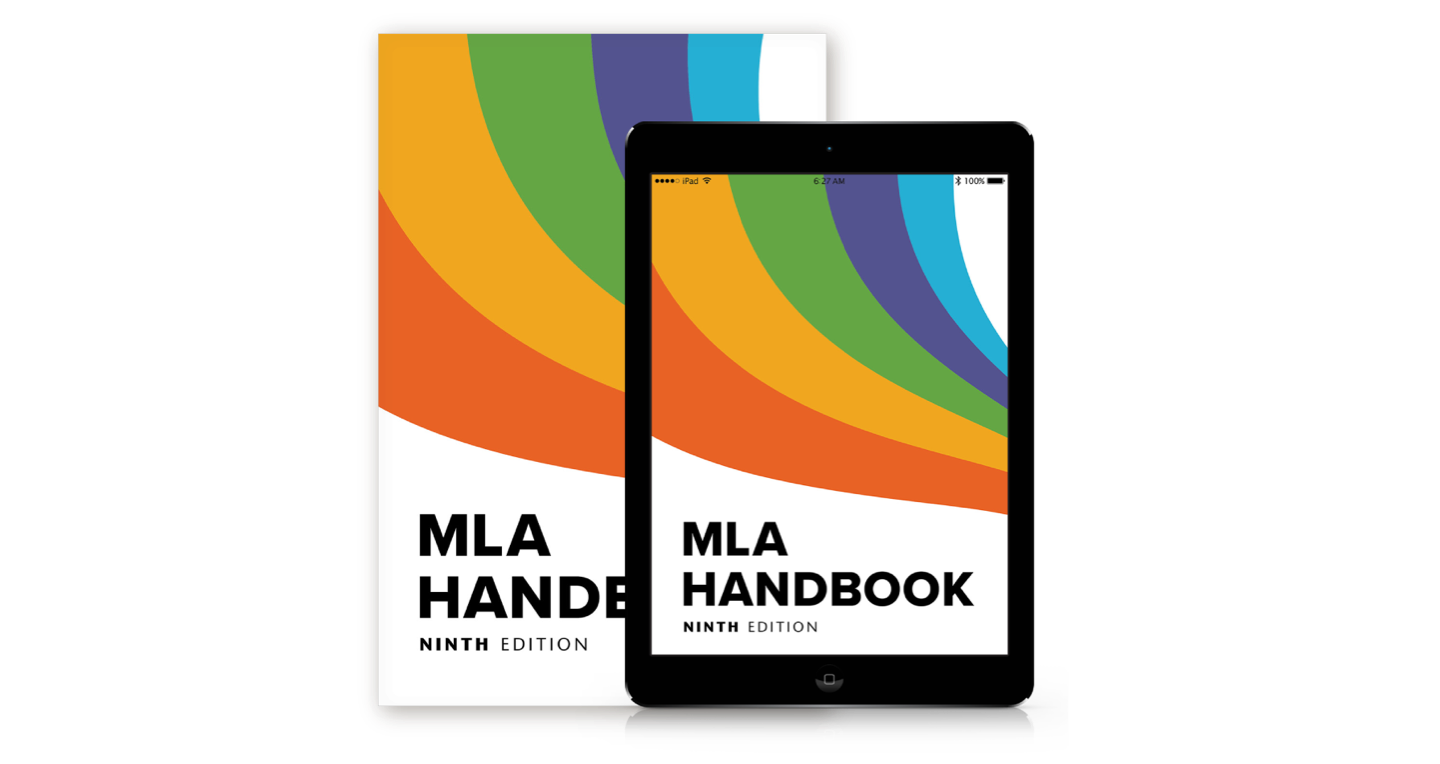 MLA 9th edition
MLA is publishing the 9th edition of its MLA Handbook this spring. Read what's new and then jump into the NoodleTools citation forms next school year knowing we're always up to date!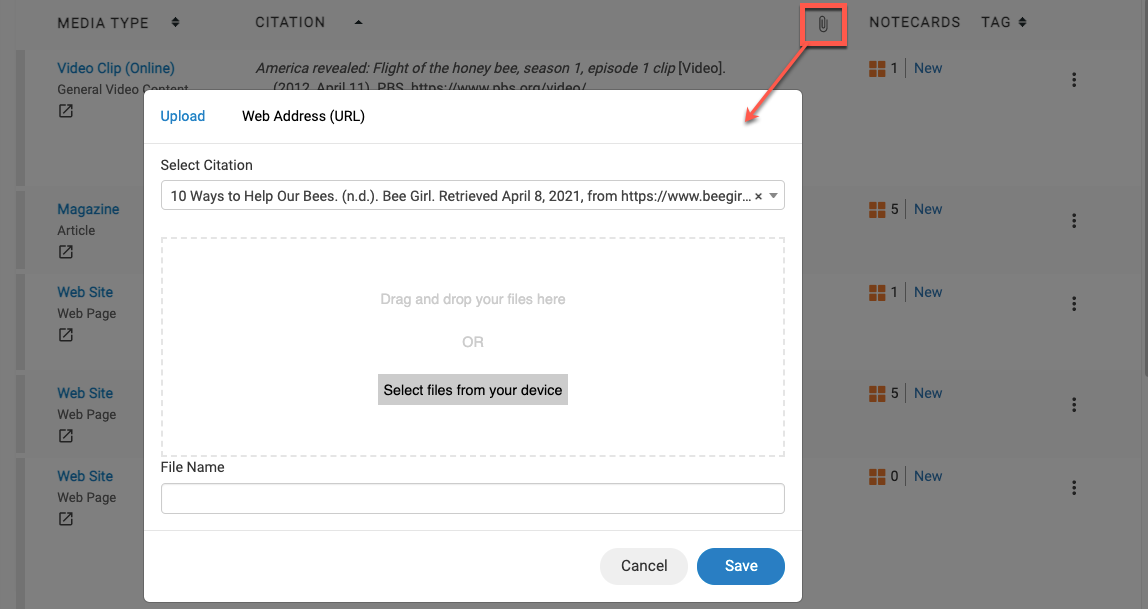 Introducing source attachments
Use your phone to snap a photo of an encyclopedia page. Upload the PDF of a journal article you are using. Enjoy convenient access to relevant files attached to your source citations.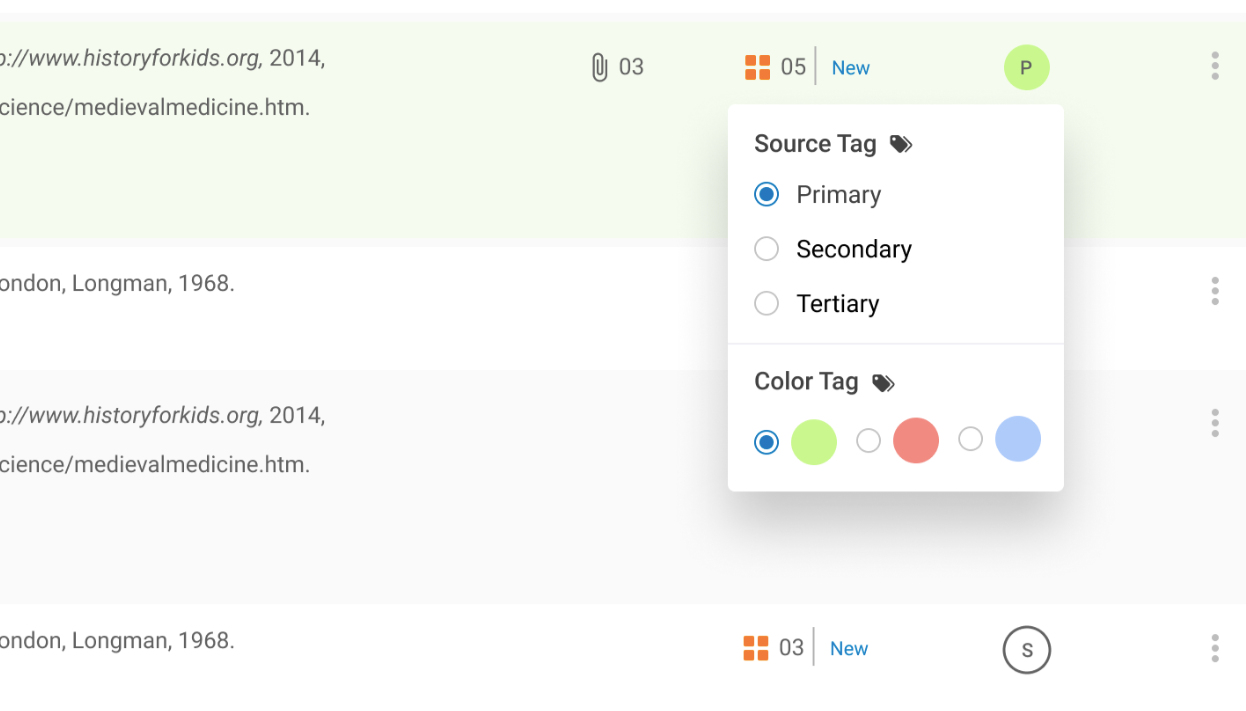 Color Your Citations
Color your citations, then group and/or export them by color. For example, you could keep track of sources consulted vs. sources actually used. Or you might use colors to identify which of your sources speak to the "pro" or "con" sides of an argument. We're sure you'll come up with many creative applications!
Summary: We've refreshed the Notecard Tabletop interface and added new functions you'll love! Larger, colorful notecards provide more space for descriptive titles. Simplified tabletop scrolling eliminates the need for the old bird's-eye view. Notecard "pinning" and tabletop pages make it easier to organize large numbers of notecards efficiently. The outline can be toggled on and off with a checkbox, giving you maximal space for organizing and analyzing ideas.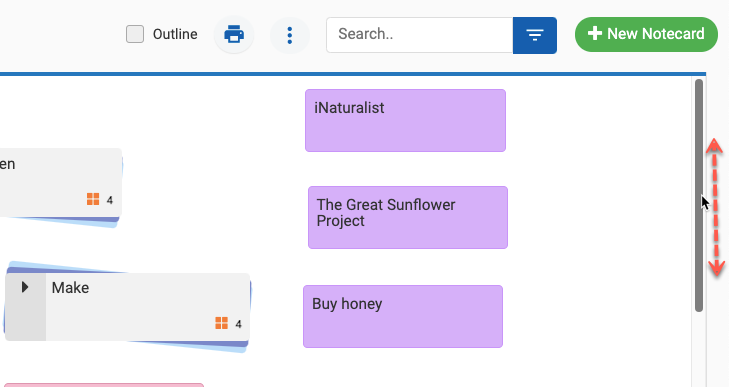 FAST navigation
The Notecard Tabletop scrolls quickly up and down, replacing the slow "click and drag" navigation and eliminating the need for a separate bird's-eye view.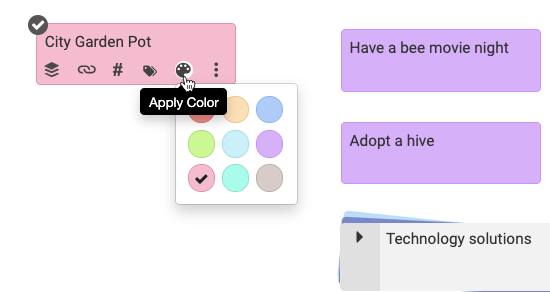 Big, colorful, efficient
The larger footprint of each notecard means that you can write longer and more descriptive titles. Use a notecard's mouse-over menu to efficiently apply tags and colors (with a larger palette to choose from).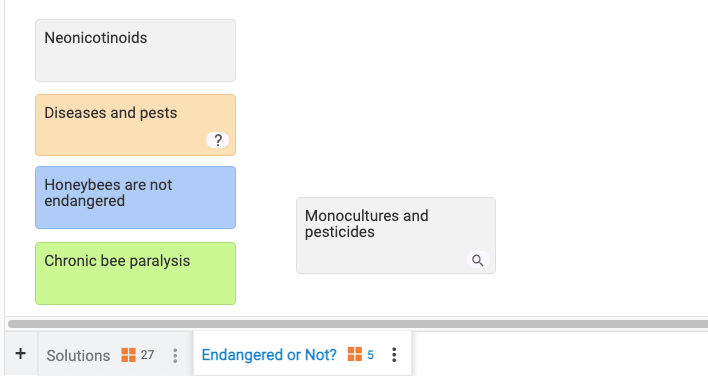 Introducing tabletop pages
Adding multiple tabletop pages provides a new way to organize notecards and declutter your workspace. You can use pages as an alternative to creating large piles of notecards, or to group notes that will eventually be used together (think chapters in a book). In a collaborative project, contributors might choose to work on separate pages to avoid interfering with each other's work.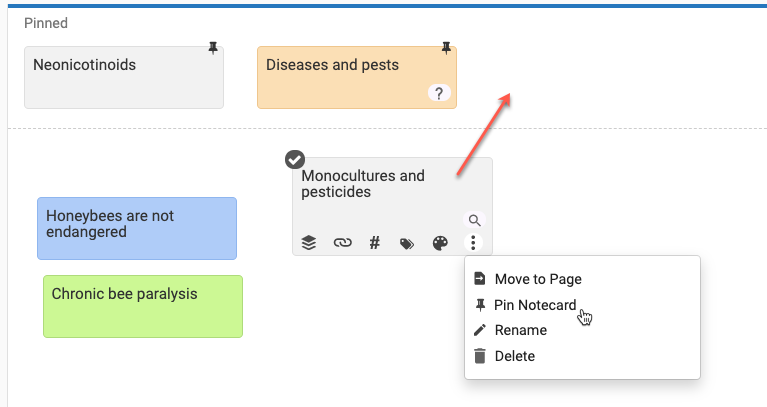 Introducing notecard pinning
Notecards and notecard piles can now be "pinned" in a special area at the top of the tabletop. A pinned notecard attracts your attention. It can remind you where you've left off, show an instructor where you want advice, or keep a model notecard visible as you work. Let us know what other uses you find for this flexible option!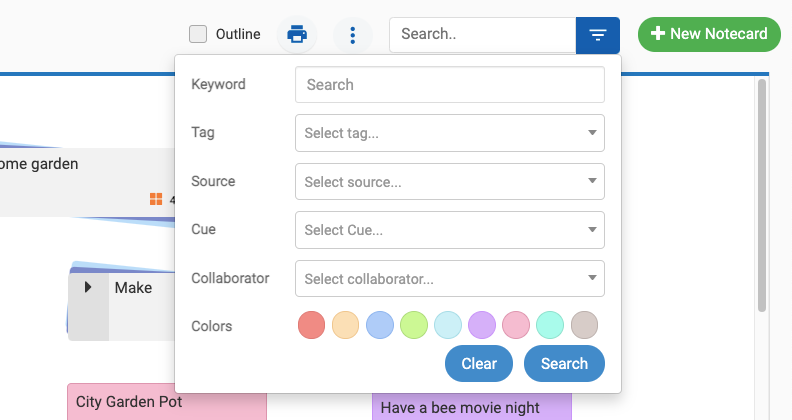 Powerful search
Locate sets of notecards that match multiple criteria. For example, in a collaborative project you could search for notecards that were created by your partner and contain a certain keyword. Or you might be looking for notecards that are linked to a source and also have a particular tag.
Summary: We've removed the Google/Microsoft 365-specific "Paper" functionality and replaced it with a more flexible "Attachments" module. Since the final product of a research project may vary, NoodleTools lets you link all kinds of files to your project:
Uploaded local files (e.g., Word .docx files, GIF images, Powerpoint files)
Web documents (e.g., Google Docs, Google Slides, Word Online docs)
Online multimedia (e.g., a YouTube video, an infographic, or a set of Web pages you created)
When a NoodleTools project is shared with a teacher via an assignment inbox, the teacher can open and review the attachments. Since we don't automatically set sharing permissions for Google or Word Online documents, it's no longer necessary to grant any file permissions at the domain level when using Google or Microsoft 365 SSO for authentication into NoodleTools. Students will use the sharing options in those programs to grant viewing access.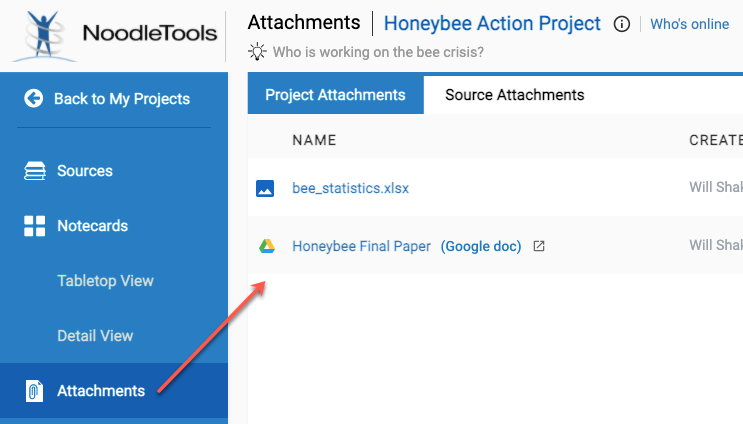 New Attachments Screen
The new Attachments screen provides a central place where project files and links can be added and viewed. Click the "Attachments" option in the blue side-panel to open it. Your source citation attachments are also accessible from a tab on this screen. Those can be added or viewed here, or you can click the Paperclip icon next to your citation on the Sources screen to view them there.
Summary: The Inboxes screen allows you to expand inboxes in-place to view the projects within, eliminating the need to switch between tabs to work with multiple inboxes. As on the Projects screen, inboxes are filtered by school year (and your students will only share with the inboxes associated with the current school year).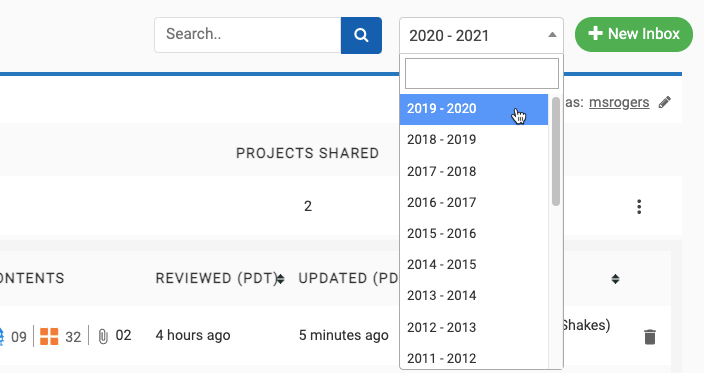 No more archiving (part 2)
The default Inboxes view displays inboxes that were created during the current school year. You'll see a dropdown filter to change that at the top of the screen (e.g., "2020-2021"). Students can share with inboxes associated with the current school year (and older inboxes can be moved to the current year if necessary).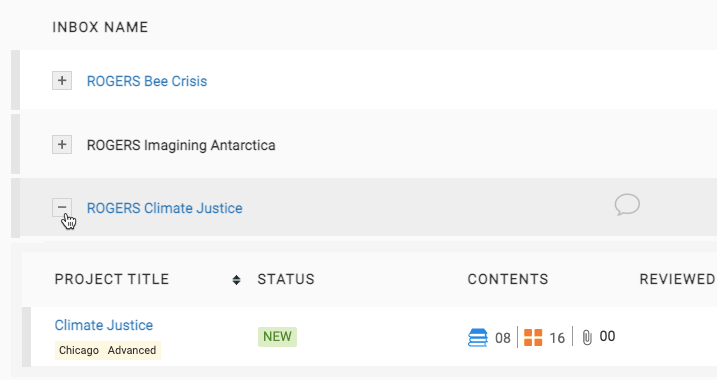 Fewer clicks
Inboxes can be expanded via a "+" next to the inbox name, eliminating the need to navigate between different tabs to view the list of projects in each.
---
We'll have more to share soon, but this preview gives you some insight into what to expect for the 2021-22 school year. We're all looking forward to the return of in-person learning, in-person libraries, and in-person friends!