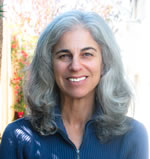 We are very pleased to announce our newest team member, Amy Rogers. She will focus on communication projects, including accessibility and usability, online instruction, marketing and keeping our users informed of new developments.
Amy has a MLIS from the San Jose State University School of Library and Information Science and a B.S. in Economics from Mills College. She has years of web technology experience with businesses and nonprofits.
Amy is a nature lover and supports sustainable living. She loves science fiction and stories that focus on women, as well as classical cello music.